Development of interactive applications for the presentation of the digital archives of Mount Athos in the context of the Athos Digital Arc project
Reveling the digital treasures of Mount Athos
In the context of the project "Athos Digital Arc", Talent, as a subcontractor of the main contactor Cosmote, developed on behalf of "Holy Community of Mount Athos", a number of interactive applications, exhibits and games.

Visit Athos Digital Arc for detailed descriptions.
With this application, users can receive informations about places of historical, cultural, or religious interest, as fountains, cells, stone bridges, peregrinations and physical environment, using a user-friendly interface, based on geolocation and 3D scanned archives, of Athos Digital Arc as well as Monk's statements.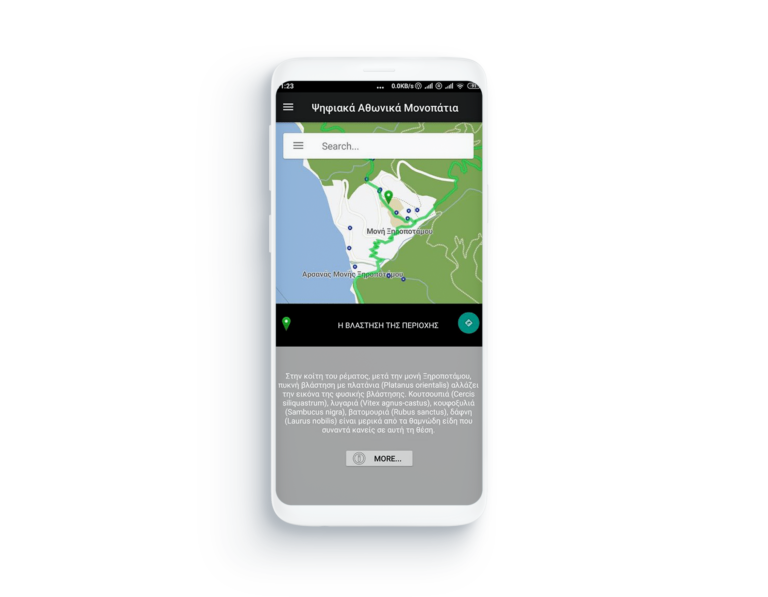 With this application, users can follow the suggested paths, via GPS, take advices and other useful informations for their route, as well as informations on how to move from one place to other, etc. Available on portal devices (smartphones/tablets).
"Digital Arc" is a web application, for the Monasteries of Ksenophon, Karakallos, Saint Pavlos, Pantokratoros, Dionysios. It includes: "Explore the Narrations" where users follow narrations about "stories" based on text, images, video. "Time Travel", users explore visually the main parts of Holy Monastery during the times. "Read up the Icon Cases", includes descriptive/historic type of information which consist of text, images, videos. "Browse the Images", the user can browse a list of rare images of Holy Monastery.
Web application that visualizes using animation, video, voice over, maps and graphics, the second journey of Russian excursionist, Barsky at Mount Athos in 1745. Users can follow the steps of Vasily Grigorovich Barsky visiting Mount Athos during 18th century through an exciting interactive exploration.
Great litterateurs like Kazatzakis, Sekelianos, Theotokas, Papaioannou and Kontoglou visit Mount Athos. Discover their different perspectives, their experiences, their writings and their thoughts throughout their personal journeys through this web application.
Web application visualizing the whole process of the Devotional of Saint Ioannis Chrysostomos, using video and graphics, with explanations for every section of the Devotional.