The Forest Fire Risk Management System is an essential tool for the Fire Services and Public Authorities, to prevent, combat, and manage forest fires
The essential forest fire management tool
The Forest Fire Risk Management System is an essential tool for the Fire Services and Public Authorities, to prevent, combat, and manage forest fires. It is based on state-of-the-art GIS technology and utilizes wireless networks and telemetry equipment to deliver a real-time decision making and control system.
Navigation, display and search for information
Navigate to any area in a two or three-dimensional geographic background. Display of position, elevation and attribute information for the various geographic features on the map. Select objects of the map and examine their properties (e.g., the values of measurements collected by meteoro-logical sensors). Search and locate any object on the map (vehicles, fire watch stations, hydrants, etc.). Search with lexicographical characteristics (e.g. name of town, area, vehicle, object, etc.), or spatial criteria specified graphically on the map (e.g. distance from a point, con-tainment in an area, etc.) or in combination.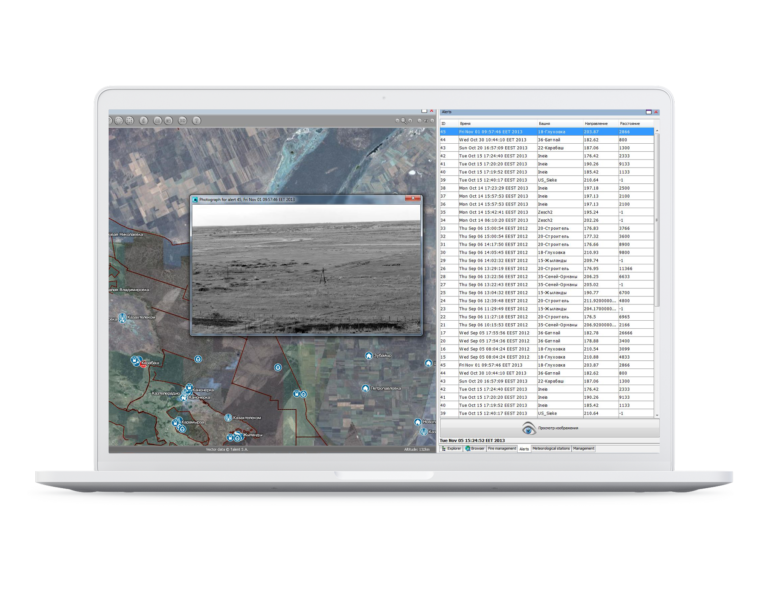 Specify the outbreak of a new fire by interactively drawing its front and characteristics on the map. Update of the fire-front in real-time as it is observed by the forces in the field. Display of the current fire-front in combination with the location of the firefighting vehicles, in real time. Monitor the prediction of the evolution of the fire-front as it is calculated by the system, based on current meteoro-logical data, relief of the terrain and vegetation data (based on the "BEHAVE plus" model). Store the entire course of the progress of the firefighting effort for later "playback" and analysis. Record the boundaries of burnt areas, archiving each event in the system's fire registry.
Fleet management and control
Monitor the movement and operational state of the fleet of firefighting vehicles in real time, using a wireless network (GPRS or other). Visually specify on the map the "next position" that vehicles should move to.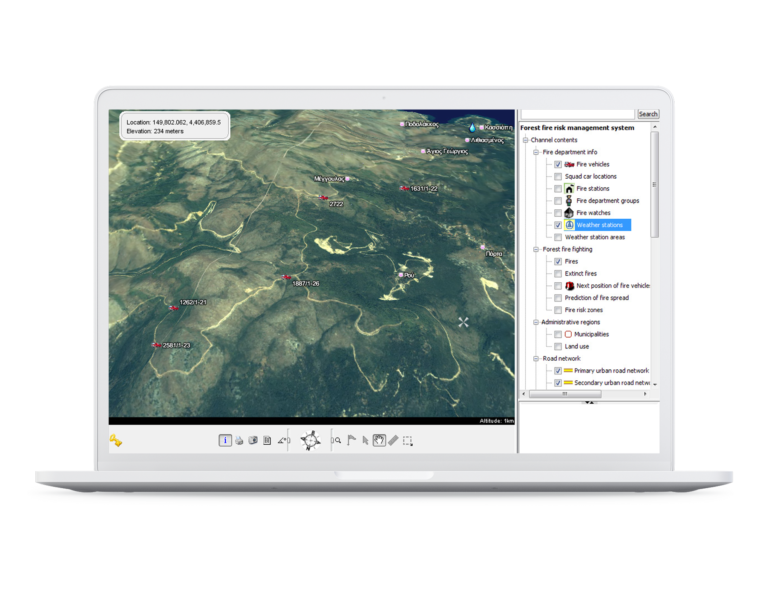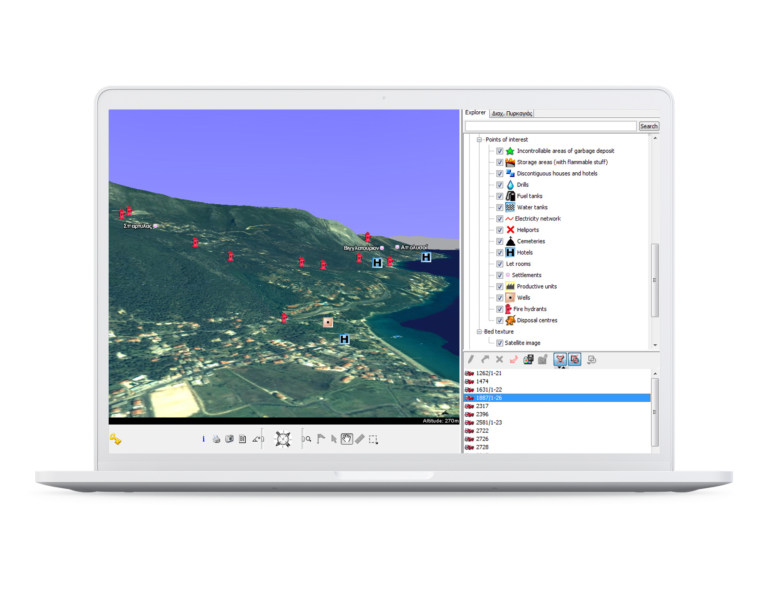 Update the system database as required with new infor-mation regarding geographic data or fire service data (e.g. new roads, new water tanks, new installations, etc). Create and attach personal content on the maps, accompanied by descriptive information (e.g., flags-notes, message marks, vehicle routes, etc.).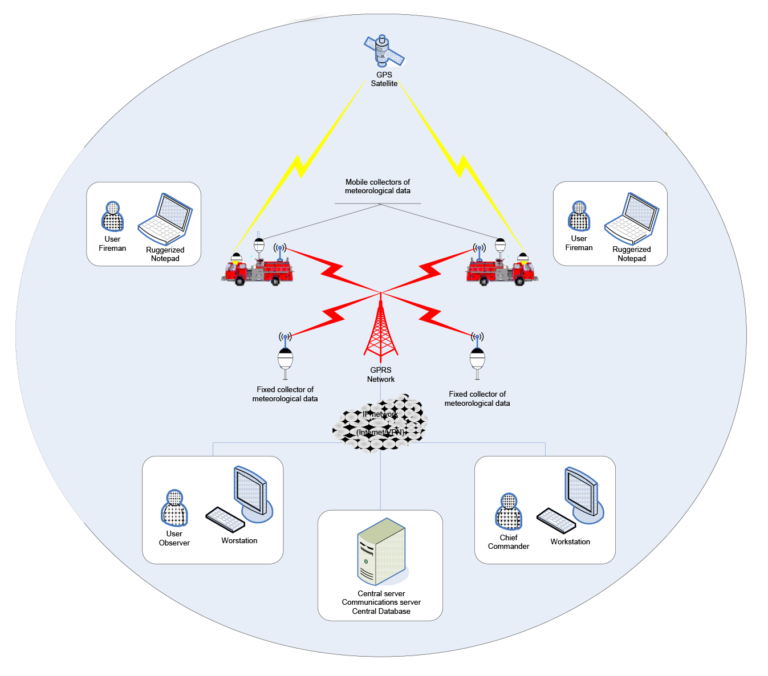 The system can be customisable upon client's request
• Its functional characteristics (more features can be added to cover specific requirements and needs)

• The user interface (look & feel)

• Its connectivity with other back-office and legacy systems (GIS, ERP, etc) or data bases

• The geographic coverage so that the required areas are covered to the suitable detail

• The type of data transmission network (e.g. GSM/GPRS, WiFi, satellite , etc), the in-vehicle device and sensor types (GPS, meteorological, etc
A system that supports all the involved parties
The firefighting coordinator towards
• The deployment of forces in an optimal manner, accord-ing to various factors, such as the evolution of the fire, the accessibility of the area, the geophysical configuration, the combustible materials, the availability of sources for drawing water in the area, volunteers, and other private or public firefighting means available nearby
• The estimation of the expansion of a fire front in time, by combining data received in real time from the firefighting vehicles, as well as other information regarding the terrain of the area and the combustible materials
• The knowledge of the weather conditions in the area of concern so that a quick assessment can be concluded regarding the severity of a fire outbreak, leading to the mobilization of the appropriate number of forces
• The laying of the firefighting plan on the map, and its communication to all participating forces in real time
• The communication of information about the status of the fire-front from the field back to the coordinator
• The concurrent management of more than one fire incidents in different regions
• The estimation of the risk of a new fire breaking out in the region of concern, using real time measurements received from stationary or mobile weather stations
The firefighters who can get information through their in-vehicle system terminals about
• The precise location and bounds of the fire front(s)
• The relief of the terrain
• The road-network of the area and the optimal routes
• The placement of the other vehicles of the rescue forces
• The nearest water supply points
• The firefighting plan as it is graphically communicated by the coordinator
The system administrators
• Central user management with the ability to define specific user access privileges per role
• Content management (geographic and other) by means of graphical tools
• User–transparent updating of geographic data and application code (zero–cost application management)
The Forest Fire Risk Management System at a glance
• Command and coordinate the rescue teams
• Fast call assignment / agent response cycles
• Communicate the action plan graphically on the map
• Forecast the evolution and spread of the fire-front based on current weather and ground conditions
• Predict the spatial distribution of fire risk probability
• "Record" operations for future playback and analysis
• Visualize the field of operations and monitor the forces in the field